Please be advised that in order to utilize your Travel Credits for your booking, it's essential to log in to your TourRadar account.
Upon logging in, you can click on the blue link labeled 'Redeem Promo Code/Travel Credits' during the booking process.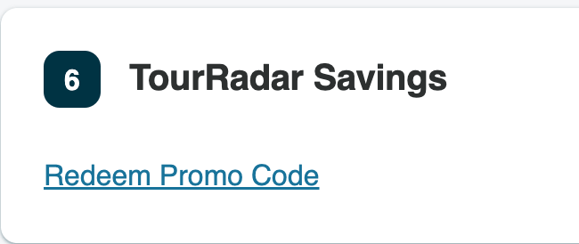 Normally, Travel Credits cannot be applied once a booking is confirmed.
However, there are a few exceptions to this rule:
If you get in touch with us within one hour of making the booking and only the initial payment or deposit has been processed, we can facilitate the application of Travel Credits to your booking.

Please note that this might not be viable for last-minute bookings where the full amount has already been charged.

Furthermore, if any technical glitch prevented the Travel Credits from being applied to the final payment, kindly apprise us of the situation, and we'll make earnest efforts to rectify it.
You can communicate with our Customer Support Team by sending a message from your Booking Conversation Page, requesting the addition of Travel Credits, or by reaching out to our Live Chat!

Do keep in mind that your travel credits are capable of covering up to 5% of the total adventure price, and the travel credits earned from your current booking cannot be applied, as these are reserved solely for future bookings.