Whether or not you are required to purchase travel insurance for your adventure is determined by your adventure operator. Some operators do require mandatory insurance, while others leave this to the discretion of their travellers. You can find out if insurance is mandatory for your adventure by checking the operator's terms and conditions, opening up the Insurance tab on the 'What's Included' section of the tour details page, and/or checking your trip notes.
When travel insurance isn't mandatory, TourRadar and each of our adventure operators always highly recommend insurance, as you never know when an emergency might come up. Insurance is better to have and not need, rather than to need and not have.
If you're located in a region that can be insured by our insurance partner Cover Genius, you'll be able to obtain a quote for insurance from the Book Now page by clicking into the date you're looking to travel.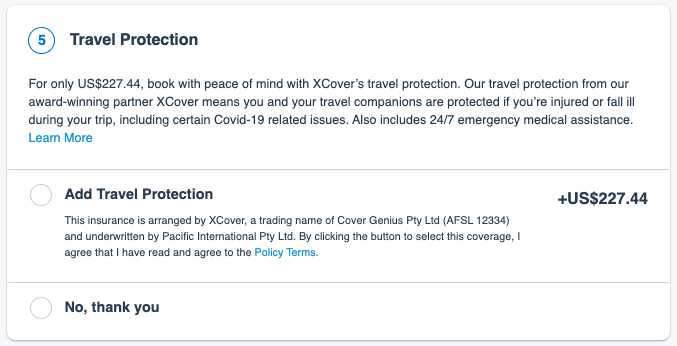 Otherwise, if you already have a booking, you can purchase travel insurance from your Booking Conversation Page up to 1-day before your tour departs!
If you're from a region not covered by Cover Genius, we recommend World Nomads as one of the many travel insurance companies you can use! Please see https://www.tourradar.com/travel-insurance for more details of what's available in your region and how to purchase insurance.
As well, your credit card company and/or employment insurance policy may already include travel insurance so definitely check with them, as you may already be covered!