Subsequent to making your deposit, the final balance will be subject to automatic charging to your designated credit/debit card or PayPal account on the scheduled due date, which is conveniently outlined in the 'Payment Details' section of your Booking Conversation Page. This critical information is also accessible through the invoice dispatched upon confirmation of your booking.
A timely email reminder will be dispatched to you two weeks ahead of the final payment due date.
For added convenience, the option to remit payments in installments is available during the booking process. These scheduled deductions will occur every two weeks until the final payment date.


If you want to do so, log into your TourRadar account, locate your Booking, and then select the option 'Add

Payment

' on the left-hand side of the page.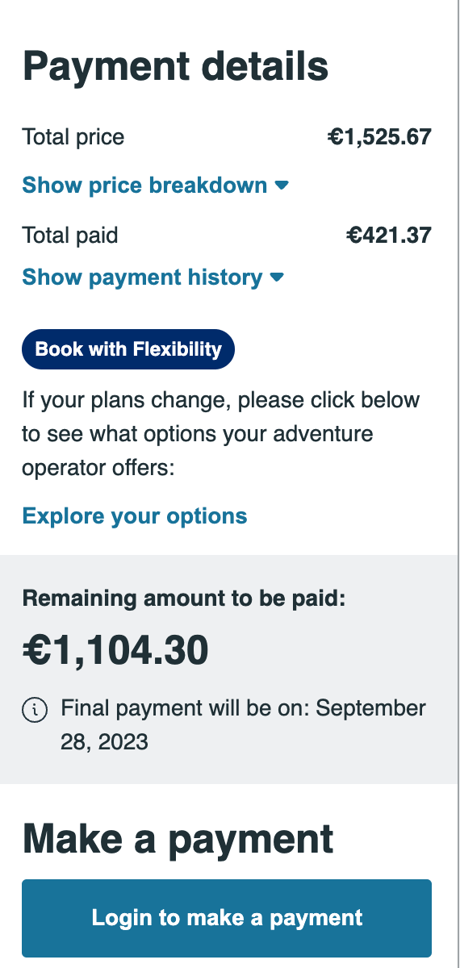 When you select this option it will provide you with different payment amounts. Please select the amount you would like to pay and your payment method then select 'Pay Now'. You will also have the option to add new card details using this function.
Once you have clicked 'Pay Now

', your payment method is charged and when you refresh your Booking Conversation Page, this will reflect the new balance on your account.

Furthermore, the flexibility to make payments prior to the final due date is extended through the Payment Details section of your Booking Conversation Page.
In cases where you're accompanied by fellow travelers, you can initiate a secure payment link for each traveler through the Traveller Details section of your Booking Conversation Page. This enables each traveler to conveniently handle their portion of the adventure's payment, enhancing the ease and clarity of the process.