Certainly, the option to pay in installments is available, provided your booking falls outside the final payment period, which typically occurs around 65 days prior to departure, contingent upon the operator and travel style.
During the booking process, you can opt for the installment payment plan.
Subsequently, these smaller payments will be automatically deducted every two weeks on the designated dates, as indicated on the Booking Page.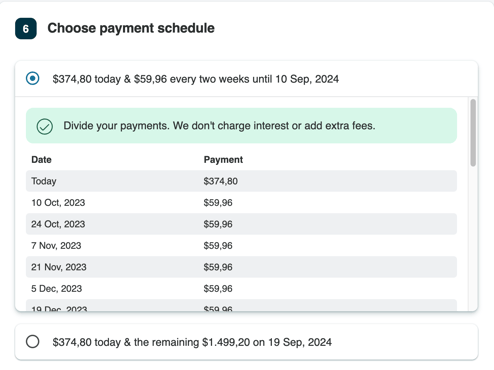 In instances where you don't initially choose the installment payment method, you retain the flexibility to manually make payments towards your adventure at your convenience. This can be done directly from your Booking Conversation Page.
You also have the capability to request payments from your travel companions as well. These manual payments can be effectuated after the initial payment and before the final payment due date.


If you didn't pick the installment plan when you booked but now want to switch to automated installments, just message us through your Booking Conversation Page. To qualify for installments, here are the requirements:

Your remaining payment schedule must have room for at least two installments.

For example, if you're on a biweekly plan, your final payment date should be at least twenty-eight days away.

The total amount left to pay should be at least two hundred USD/CAD/NZD/AUD/EUR/GBP.