Depending on the details of the specific policy you're looking to purchase, travel insurance may cover the cost of your airfare, as well as your adventure, in the case of unforeseen cancellation. It ensures that you do not have to worry about any unplanned changes to your travel plans, such as having to rush home to an ill family member or having an adventure changed or cancelled because of a natural disaster. It can even help with smaller things, like lost luggage or a stolen phone. When considering which policy is best for you, we suggest checking the details of the coverage the insurer may provide in the event that you have to cancel your booking or if anything happens whilst on your adventure. These details should be outlined in the policy documents.
If you're located in a region that can be insured by our insurance partner Cover Genius, you'll be able to obtain a quote for insurance from the Book Now page by clicking into the date you're looking to travel.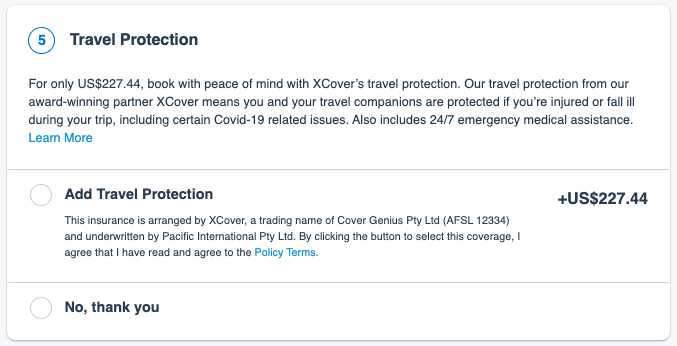 Additionally, if you already have a booking, you can purchase travel insurance from your Booking Conversation Page up to 1-day before your adventure departs!
If you're from a region not yet covered by Cover Genius, we recommend World Nomads as one of the many travel insurance companies you can use! Please see https://www.tourradar.com/travel-insurance for more details of what's available in your region and how to purchase insurance.