TourRadar and tour operators are distinct entities.
TourRadar serves as the organized adventure platform offering organized tours, and
Tour operators are responsible for running those tours.
Our mission at TourRadar is to bridge the gap for travelers, offering them a seamless and enjoyable experience when exploring the world through fun-filled adventures.
For Specific Tour-Related Queries
If you have questions about the details of a specific tour, such as arrangements for day 2, transportation, accommodation, or other trip-related inquiries, it's best to direct your messages to the adventure operator.
You can do this through your Booking Conversation Page or by using the "Ask A Question" button on the tour page. This ensures you communicate directly with the operator who has the most accurate information about your tour.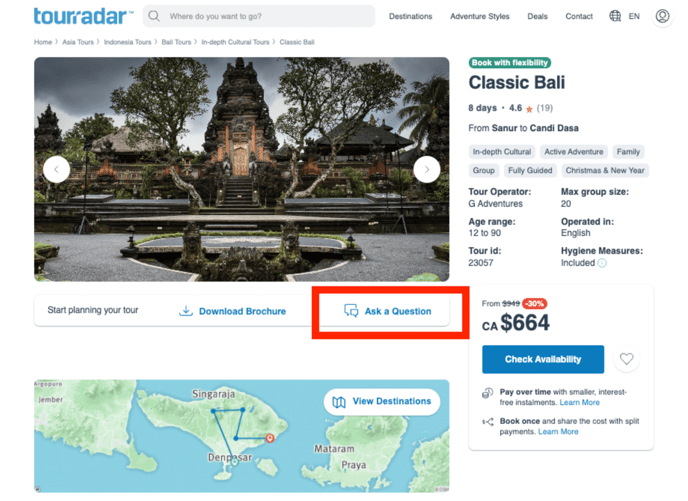 For General Inquiries or Assistance
For general inquiries or to speak with someone you can contact TourRadar directly. Here are your options:
Contact Through the Website: To ask general questions, simply click the "Contact" button in the top navigation bar of our website. Our Customer Support team will promptly address your inquiries within twenty-four hours.


Live Chat Assistance: For immediate help, access the live chat feature by clicking on our chatbot, Scout, located at the bottom right-hand side of the website. Scout can guide you or connect you with a live agent for real-time support.


By Phone: We provide a dedicated customer support phone number for inquiries, assistance, or bookings. When calling, please be prepared to provide specific details about your inquiry or booking for a personalized experience with our customer service agents.
We encourage you to utilize the contact options mentioned above, depending on the nature of your inquiry. Our dedicated Customer Support team is here to assist you, ensuring your journey with TourRadar is as smooth and enjoyable as possible.