Navigating the visa application process can vary from country to country, and it's advisable to consult your local consulate or embassy for precise guidelines. Contacting them directly via phone or visiting their official website is a reliable approach. Consulates and embassies typically provide a comprehensive Visas section on their websites to guide applicants through the process.
For our customers who have an existing booking, initiating the visa application process is facilitated through our partner, Sherpa. Simply access the 'Purchase e-Visa' option from your dedicated Booking Conversation Page: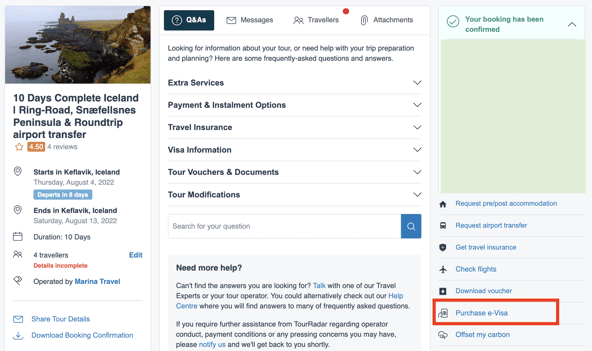 Should you not yet have a booking, you're welcome to visit this page to engage with our visa partner, Sherpa, to apply for your visa. Depending on the destination country, Sherpa might offer valuable support throughout the application journey, including the potential to lodge the application on your behalf.
Don't forget to check your trip notes for any details you might require for your visa application, such as entry and exit ports.