If you wish to add insurance at the time of booking, you can obtain a quote by clicking on the "Confirm dates" button from your selected dates and you will be directed to the booking page.

Alternatively, if you want to add insurance after booking, you can log in to your TourRadar account, locate your booking, and on the right-hand side, click on the 'Get Travel Insurance' button. This will allow you to review the policy wording and, if you agree, add insurance to your booking up to one day before your adventure departs.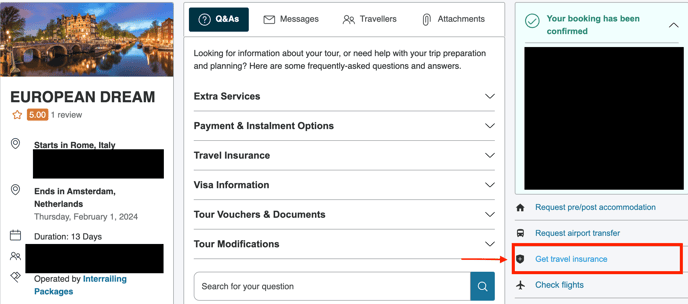 It is crucial for you to read the policy wording thoroughly at all times to ensure they have a clear understanding of the coverage and terms provided by XCover.

If you are from a region not yet covered by XCover, we recommend conducting your own research to find suitable travel insurance that meets your needs. There are numerous options available to ensure you have comprehensive coverage for your travels.

If you want to know whether XCover offers travel insurance in your region, please read here: How do I know if I am eligible for travel insurance offered by XCover?