Travel insurance is always recommended because you never know when you might need it. You may have to cancel your trip at the last minute, leave halfway through due to an emergency, have your luggage damaged, or have one of your personal belongings stolen. You could end up having to visit a doctor or even needing to go to the hospital, both of which can be extremely expensive when travelling. Insurance may cover all of these costs, depending on the policy you choose to purchase, so you don't have to worry about replacing stolen goods, booking an emergency flight home, or paying to visit a doctor. Travel insurance is always better to have and not need, rather than discovering that you need it and don't have it.
If you're located in a region that can be insured by our insurance partner Cover Genius, you'll be able to obtain a quote for insurance from the Book Now page by clicking into the date you're looking to travel.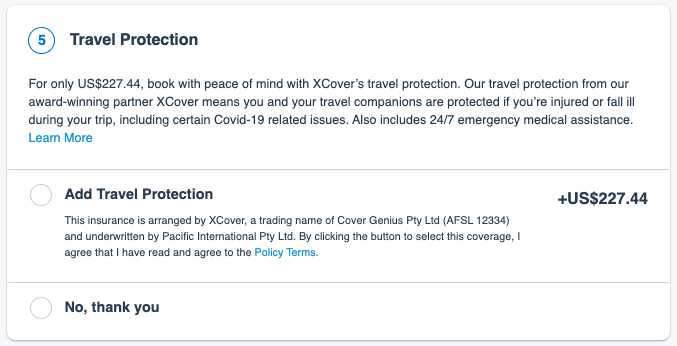 Otherwise, if you already have a booking and can be insured by our insurance partner Cover Genius, you can purchase insurance from your Booking Conversation Page up to 1-day before your tour departs!
If you're from a region not covered by Cover Genius, we recommend World Nomads as one of the many travel insurance companies you can use! Please see https://www.tourradar.com/travel-insurance for more details of what's available in your region and how to purchase insurance.
As well, your credit card company and/or employment insurance policy may already include travel insurance so definitely check with them, as you may already be covered!